Here you can read about some of the activities that happen in our school. Click any picture below to see it enlarged.
Green Schools
Our green journey at St. Joseph's G.N.S. began in 1999. We started initiatives to secure our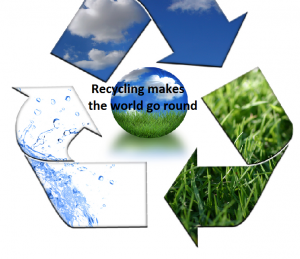 first green flag.  Firstly we enlisted the help of parents to bring our segregated waste to landfill on a Saturdays. This greatly reduced our waste costs and also improved our recycling efforts. This continued for 10 years and then we secured the free service of blue bins for recyclables and our caretaker brings the rest to the landfill so we in effect do not have commercial collection of waste. We instead segregate it all on site. How industrious is this for a primary school!
We set up an art bank with waste materials which cuts down the costs of art supplies. To highlight litter in our town we made a video called 'Stop the Drop', a drama that highlights the consequences of littering and suggests ways to improve. We had a fashion show of all waste materials to emphasise reusing and recycling. We've covered all themes of the green school's programme: Litter and waste, energy, water, transport, biodiversity. In June we secured our 7th green flag and fly it proudly.
In school we have a lunch policy which recommends a no wrap lunch to include a naked sandwich, fruit and a reusable drinks bottle. Children take home their waste in their lunch box. We have a composter for fruit and waste.
We launched our Walk On Wednesday campaign and walking improved from 32% to 54%. We installed bicycle accommodation and annually give a skills and safety course to 5th class. We have worked with local group M.E.G (mountmellick environment group) on 'The Race Against Waste' project. We designed a Tidy Towns Banner. We visited a lake during biodiversity week.
Our green school's slogan is:
STOP THE DROP
STOP THE DRIP
STOP THE LIGHTS
WALK DONT DRIVE
BIODIVERSITY-VARIETY IS THE SPICE OF LIFE.
We have assigned a class tree to each class. We organise field trips to Emo court during Tree Week. Finally , we've had great fun changing our ways and we know that each child and parent individual action amounts to massive collective action.We've celebrated in style and have brought the army band to our green flag celebrations. We are convinced that looking after the environment works better if we do it with military precision! We believe caring for the environment is nobody's job but everybody's responsibility.
Here is a photo of us receiving our sixth flag in Athlone.
Our School Garden
We recently fixed up our school garden. We hope our plants will grow.
Attendance Awards
Here is St. Josephs we value the importance of great attendance in school. We like to encourage great attendance each year by giving attendance awards to the children who have the best attendance for the previous year. For tips to help with attendance see the advice on the Parents page.
Tree Day
We celebrate Tree Day each year in our school. When we can we take a trip to Emo Court and go on a nature walks to see all the trees and nature around Emo. Here is a report of one of those trips –  Friday was a lovely crisp sunny autumn day in Emo Court. We met our guide Valerie who started the guided nature walk. We saw a Beech tree, a Birch tree, an Oak tree, a Sycamore tree and a Horse Chestnut tree. We examined the shape of the leaves and we looked at the fruit and seeds.We took note of the plants and animals near the tree. Some trees were deciduous others were evergreen like the Yew and Pine.We went to feed the birds at the lake. We saw mallards, swans, and even a heron. We gathered some samples of leaves and fruit and put them on our Nature Table. We had a great day and really loved seeing all the magnificent trees in Emo Court.
Harp 
We are very lucky to be participating in "Music Generation Laois Harps in Schools Programme". With the help of "Music Generation" and our harp teacher Ms Claire O'Donnell some girls in our school are learning to play the harp.  We had a fantastic Harp Workshop with Edmar Castaneda this year. Harp students from all over the county attended and it was most enjoyable and inspiring.
 Team Hope Christmas Box
Each year in November we  create and send boxes full of toys and gifts for children in need for Christmas. We love to see the childrens reactions when they see what is inside their box.
It is the ultimate Christmas story – genuine, caring people in Ireland from homes and schools, businesses, groups etc. across Ireland, having an impact all across Africa
and Eastern Europe. Boxes of joy and hope packed by you and delivered by us to children in up to a dozen countries. Team Hope

Halloween Dress Up
Each year at Halloween we like to dress up to raise money for charity. We have lots of fun dressing up and raising money for the Jack and Jill Foundation.