Cumann na mBunscol
We have been participating in Laois Cumann na mBunscol for many years now. We enter the football and camogie division each year. We get lots of help with coaching and training of our teams and we appreciate all the help we get. In 2017 / 2018 school year we succeeded in reaching both the football and the camogie finals. We were delighted to win the football final bringing home the trophy. Look at our "News" page to see how we are doing each year in our games.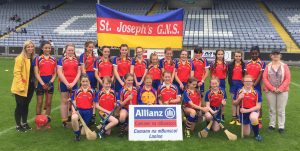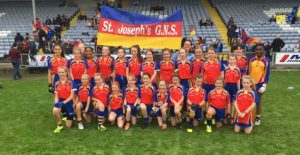 In school Football League
Cycling
The following is a report from Fourth Class on their experience of cycling:
This year Ms. Colbert's Fourth Class were very excited to be chosen to take part in a cycling safety course during September and October. Our class had great fun each week learning new skills. Ruairí was a great teacher and showed us how to check our brakes and tyres, to move our seat and to wear our helmets properly.
Our class all took part and improved our cycling skills. We are very proud of the girls that learned to cycle during this course. We really enjoyed learning to cycle safely, make turns correctly, signal properly and follow road signs.
By the end of the course we were all very confident at cycling. We were delighted to receive our 'Cycling Safety and Skills' certificate at the end of the course. We are now much more aware of staying safe on the road.
By C.M. and O.F.
Rounders
We are learning how to play rounders and improving every year. We really enjoy playing rounders and competing in the rounders league.
Swimming
Second to sixth class attend swimming lessons in Portlaoise swimming pool. We are learning lots about swimming and hope to pass our exams and get our swimming certificates.
Athletics
Each year Junior Infants, Senior Infants and First Class were very excited to go to Athletics thanks to Laois Sports Partnership. We had great fun each week running and jumping and having relay races. We loved throwing bean bags at targets and racing to see which group would win.